About Us
Celebrating its 55th anniversary this year, the Richter Group now offers a wide range of vehicles, from small economy models to extra heavy trucks. The Richter Group which started with Eastgate Ford in 1957, now offers vehicles from Hamilton Hyundai, Bay King Chrysler Dodge Jeep, Eastgate Trucks featuring Western Star, LS Tractors and FUSO. Complete on-site collision centers are also part of the package.

Founder Frank Richter was a stickler for hard work, honesty and integrity along with offering a superior product to his customers. Today, with a half-dozen franchises, the Richter Group scrupulously maintains these founding principals. Frank's sons, Lorne and Lowell, along with grandsons Lance and Jamie recently have continued the traditions set before them and have made the Richter Group one of Canada's leading transportation specialists. All dealerships offer state-of-the-art facilities and technology for all customer needs. The Richter Group recognizes the value of its customers and is committed to making each experience the best it can be.

Serving the community as well as the customer base is also recognized as vital to the group. Active involvement with charities, volunteer work and local boards is part of its mandate.

Come and experience the trust, dependability and accountability that over 50 years has provided at any of the Richter Group stores.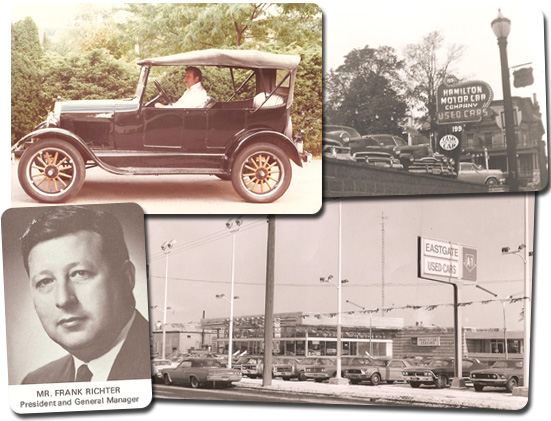 About the Richter Group
A lot has changed for the Richter family since the days that patriarch Frank Richter opened a small automobile business in downtown Hamilton. After 50 years, Eastgate Ford has become the area's largest Ford dealership. The company, located on Parkdale Avenue North, is still operated by members of the Richter family and has grown to include a number of dealerships, a heavy truck division and a body shop. And its service department is open many evenings until midnight.

The dealership's success is due to a lot of hard work and to Frank's business philosophy which was based on being honest and maintaining integrity.

Operating Eastgate Ford's multi-faceted business requires efficient management and a lot of teamwork and it's a synergy that has worked. Frank Richter built a solid foundation for his sons to continue to grow and employee loyalty and expertise has been instrumental in the company's ability to serve its customer needs.